Reining Horse Foundation Boot Camp
---

A video look at a 2017 Reining Boot Camp
Special thanks to Pam Minick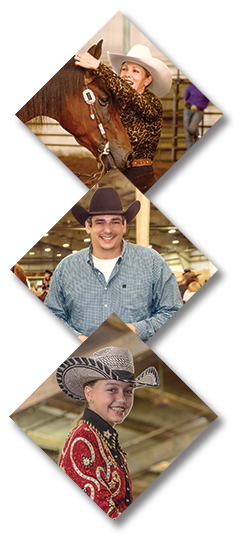 The Reining Horse Foundation announces a national clinic series welcoming beginners and non pros. Learn from NRHA Professionals who volunteer their time to help you prepare for the show pen and connect with an NRHA Affiliate and other reiners in a fun, low-stress way. Have your maneuvers evaluated without the pressure of a show.
Best of all, Boot Camps benefit the Reining Horse Foundation's Dale Wilkinson Memorial Crisis Fund to assist reiners enduring medical hardships, accidents, and disasters.
Entry fee includes clinic and lunch.
Space is limited at each clinic.
Advance Registration:
$225/Adult
$125/Youth (18 and under)
Includes a $75 nonrefundable deposit to RHF
Click the link under your desired Boot Camp to register online
Questions? Contact RHF at (405) 946-7400
2019 Reining Boot Camps
More dates pending. Check back for updates.
---


March 31

Yankee Reining Horse Association
Homestead Stables, Gerry, New York
Contact: Karen Schmitz
(716) 870-2672
Kschmitz20@aol.com
Secrets of Judging Clinic offered by NRHA Professional Ann Salmon Anderman, March 30




---


Clinicians: Ann Salmon Anderman, Serafina Gagliardi, Jesse Gentile, Kelly Hedges, Vincienzo Santos, Frank Schlossin

---


May 12

Western States Horse Expo Reining Boot Camp, 8 a.m.-Noon*
Conducted by the West Coast Reining Horse Association
Murieta Equestrian Center, Rancho Murieta, California
Contact: Mike Silva
(916) 803-0495
norcalreiner@yahoo.com
*special rates apply
Preregister online




---


Clinicians: David Hanson, Gabe Davide, Kain Emmons, Ollie Galligan, Martin Padilla, Christian Rammerstorfer

---


May 18

West Coast Reining Horse Association
Booth Ranches, Sanger, California
Contact: Mike Silva
(916) 803-0495
norcalreiner@yahoo.com
Preregister online




---


Clinicians: Mike Boyle, Tracer Gilson, David Hanson, Kelly Kennan, Jordan Larson, Torri Sims

---


May 25

Southwest Reining Horse Association
Cardinal Ranch, Aubrey, TX
Contact: Jennifer Anderson
(405) 401-4759
jennifer@cardinalreininghorses.com
Preregister online




---


Clinicians: Jarvis Anderson, Trent Harvey, Cade McCutcheon, Fernando Salgado, Patrice St-Onge, Nick Valentine, Josh Visser, Billy Williams