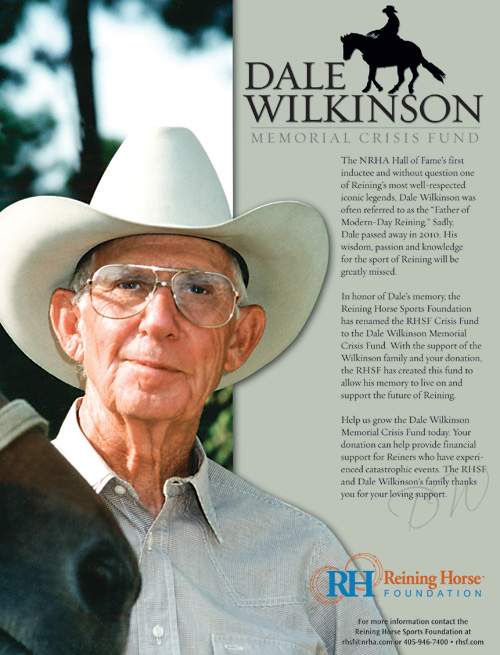 The Reining Horse Foundation (RHF) Crisis Fund has become the Dale Wilkinson Memorial Crisis Fund. Wilkinson set the standard in the sport of Reining and was an excellent example both in and out of the arena. He was instrumental in developing the NRHA and it is very fitting that he be honored in this way.
Given Wilkinson's influence, impact and mentoring of the performance horse industry's professionals, and in particular his involvement in NRHA, it is a natural fit and done with the Wilkinson family's blessings. "They are very pleased," said Rick Weaver, past NRHA President and Dale Wilkinson's son-in law.
The mission of the Reining Horse Foundation's Dale Wilkinson Memorial Crisis Fund is to assist NRHA Members who have experienced catastrophe and can demonstrate financial need. The nature of a qualifying catastrophe may be medical, accident or illness, or natural, fires, flood, tornado, etc. The fund is not intended to totally alleviate a member's distress, but to provide some relief. This is to be done in the spirit of Reiners helping Reiners.
Annie Woodhouse is just one example of the many who have received assistants through the RHF Crisis Fund. Annie had just jogged a mile down the hill to her horse; she had given her mare her early morning feed and had jogged the mile back to her motorcycle. Annie put her helmet on, started the engine and rode away to go to her day job. That is the last thing Annie remembers. She spent 10 days in a coma and 24 days in the hospital before she discharged herself and forced her husband to take her home. Annie was taken off her motorcycle by a kangaroo when it chose to cross the road at exactly the same time that Annie was riding by-she didn't even see it. The force of the impact fractured almost half the bones in Annie's body, including her neck, and left her with a major brain injury.
When she left the hospital, Woodhouse was virtually blind and could not walk. Months of determination and hard work, doctor's appointments, and hospital admissions and surgeries followed. She still suffers vision and sensory impairment. Annie works for the Australian Federal Government and they were really good. They gave her all the days off they could and were very generous. However, Annie was the primary income earner for her family; her husband looks after their 1,200-acre ranch and now, he also had to look after her. All income stopped and bills started mounting up.
Annie is a non pro reiner and someone suggested she apply to the RHF Crisis Fund. Annie's recovery was long and hard but the Crisis Fund helped take some of the pressure away. Despite her horrific injuries, she was able to qualify and get to the NRHA Australian Affiliate Championship Show in less than 12 months after getting back on a horse. She didn't do very well at that show but she was there-and is very grateful to the Crisis Fund for helping to make that happen. "The Crisis Fund is a great program. You never imagine you will be involved in a freak accident but people are. I was one of those people and am just so grateful that the NRHA had the foresight to establish a fund for situations like this. It says to me that the NRHA really cares about its members."
The NRHA Hall of Fame's first inductee and without question one of Reining's most well-respected iconic legends, Wilkinson was often referred to as the "Father of Modern-Day Reining." An educator and teacher with an unquenchable thirst for knowledge about his favorite subject - the horse, Wilkinson cofounded the University of Findlay Equestrian Program in 1976 and is the only rider to win the National Reining Horse Association Futurity and the National Cutting Horse Association Futurity.
Wilkinson has been an instrumental part of the Reining industry from the very beginning local shows to the strong international presence that we now enjoy.
The Reining Horse Foundation is proud to honor Dale Wilkinson and keep his memory alive.